About LMA and LMA Sales Training
'Sales Training in the UK'
LMA provides a wide range of sales training, consultancy & business development services to industry, commerce and government. A particular specialty is the provision of sales training courses/workshops to suppliers of Information Technology Systems, Services, Software and Consultancy.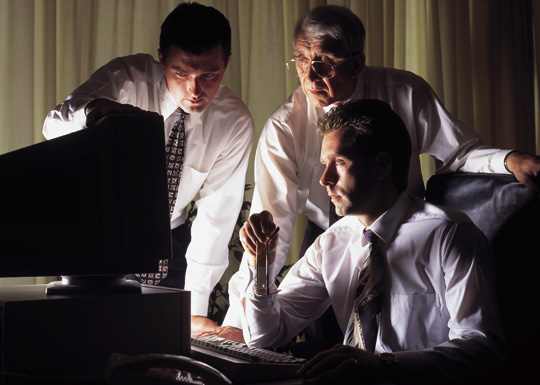 ABOUT LMA
In an age of change, training methods for sales, support and management constantly need updating. New abilities and new skills are needed to sell complex products and services at senior level over lengthy sales cycles, against fierce competition.
LMA is an independent training and consultancy company consisting of a number of training specialists who operate as LMA Integrated Sales Training, bringing wide experience across a diverse sector of sales, management and marketing. All LMA trainers and consultants have many years experience and have held senior level management positions with major companies.
Sales training is provided via a regular 2 day Public Sales Workshop "Selling Information Technology Systems and Services" which is held at the Wembley Plaza Hotel - Wembley - London. This programme was developed by Larry Monk in 1983 and is now in its 20th year. The workshop is regularly updated to take account of developments in the market. "Selling Information Technology" is the most successful public sales training workshop ever run in the UK and has become the 'preferred' workshop for IT supplier companies who need to meet 'one off' training requirements.
Most of the work that LMA carry out is tailored in-company workshops for sales, pre-sales technical support and management. Our list of clients is testament to our success in helping clients in a fast moving and competitive environment. In-company training produces many benefits. In particular, it helps to develop improved teamwork, better internal cross-fertilisation of ideas, and a common approach. For lasting results, training alone is often not enough. That is why every LMA assignment can include provision for an immediate post-course review, with further reviews at regular intervals. Involvement can continue as long as you wish.
LMA offers your people at all levels a chance to re-assess their attitudes and sharpen their skills. The aim is not to dispense detailed product knowledge, but to improve the competence and confidence of sales, technical support and management staff in dealing with people both outside and inside their own organisation. The results, in terms of personal achievement and increased sales, are frequently remarkable.
Closely related to training activities are consultancy services covering all aspects of sales, marketing and management. Many consultancy assignments arise out of successfully completed training programmes, from which valuable insight is gained about a client's business. This then enables us to act as an additional but objective outside resource.
LARRY MONK F.Inst.D.,MCIM - MANAGING PARTNER
Larry Monk has been in marketing, sales, sales management and training for most of his career. He was a UK Sales Manager and then Director of Sales and Marketing and was actively involved in business development, and sales and marketing management. He was also Sales and Management Training Manager for a major International company. Larry has worked as a professional sales and management trainer for nearly 20 years during which time he has held senior executive posts with a number of leading UK training and consultancy providers. He holds both Director and Non Executive Director positions in a number of companies
In 1994 he formed his own training organisation - Larry Monk Associates (LMA) where he is Managing Partner.
Since 1981, Larry has developed many specialised sales, marketing and management courses for Information Technology supplier companies. He provides consultancy and training services for companies both in the UK and abroad. He has worked for over 200 IT suppliers on 'in-company' assignments during the last few years providing programmes for sales, technical support, management and marketing. Larry has an active client base in the UK and also conducts assignments in other European countries and the USA, when requested. He is an expert in defining training needs and then developing 'tailored' in-company workshops.
He also runs public workshops on a regular basis in London. His 2 day public workshop "Selling Information Technology was first introduced in 1983 and has become the "preferred" course for IT suppliers with "one off" training requirements. It has been attended by many hundreds of sales and pre-sales support people from a wide range of IT suppliers. Larry also runs his "Business Proposal and Responding to Tenders" workshop on a public basis in conjunction with Intellect.
His main areas of expertise cover:
| | |
| --- | --- |
| | Sales Training Workshops |
| | |
| --- | --- |
| | Sales Appreciation for Pre and Post Sales Technical Support |
| | Post Sales Business Consultancy Workshops |
| | |
| --- | --- |
| | Business Proposal Writing and Responding to Tenders |
| | |
| --- | --- |
| | Business Presentation Skills |
| | |
| --- | --- |
| | Account Management and Development |
| | |
| --- | --- |
| | Sales Management Workshops |
| | |
| --- | --- |
| | Strategic Management - Senior Executive Workshops |
| | Training Needs Analysis |
Larry is always happy to assist with training needs. Contact him if you need help or guidance or for an exploratory discussion.

LMA Sales Training and Consultancy Services
6 Kensington - Silver Wharf - Sovereign Harbour - BN23 5NH
Tel: 01323 471730 - Fax: 01323 471869
Copyright LMA Sales Training and Consultancy Services © 1997-2005
All rights reserved.

Larry Monk and LMA Integrated Sales Training